TeamOverpowered has created their first iPhone app. The TeamOP Black Ops 2 Guide. For support and discussions related to this app then please visit our TeamOP app support forum.
Things To Know
Click on maps to open a zoom-able larger version of the current map.
The numbers in brackets is the level at which a certain item is unlocked.
Visit our support forum for discussion and suggestions.
All of the Zombie mode info will be added as soon as possible.
What's in the app?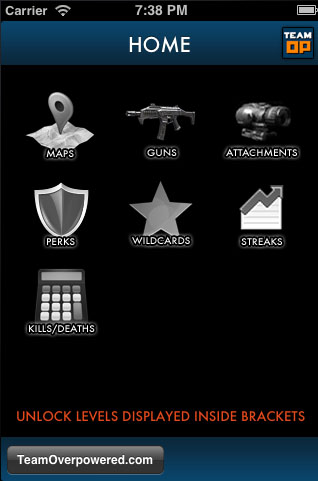 Maps
The maps are the strongest feature of this app. After a few weeks of playing some Call of Duty: Black Ops 2 we have created maps with hard points and their positions. We are also updating the maps frequently with as much information as possible. The maps are large and detailed, you can scroll and zoom in on the maps, allowing you to formulate strategies with your friends and clan mates.
Guns
The guns have some great information in the app. You can quickly scroll through the summary of guns to see which level they are going to be unlocked. You can also go into the guns full details by clicking on them, which will show you what level attachments are unlocked for that specific weapon, along with some more details.
Attachments
The attachments are listed, although the unlock levels are different depending on the gun, so the level at which attachments are unlocked are listed on the gun and not on the attachments themselves.
Perks
All of the current perks are listed in the app, along with unlock levels, images and what the perks give you.
Wildcards
Wildcards are listed in the app, along with their unlock level in brackets. You can quickly find out when you will be receiving certain wildcards by scrolling through this screen.
Score Streaks
The app will list out all of the score streaks, along with what level they are unlocked in a quick and easy format.
Kill(s) / Death(s) Calculator
The K/D Calculator will take the amount of kills and deaths you input and generate a kill death ratio. This is useful for when you are trying to increase your ratio on certain weapons. If you are getting around 30 kills each game you can use that as your kills and then keep changing the deaths to find out how to achieve your preferred ratio.
The app is being constantly updated with suggestions from members. We are also continually adding our own functionality to bring you the most awesome Black Ops 2 app on the app store.