Have you ever thought, I want to be awesome?!?
I know I have, so I got one of these great D3 t shirts and wear it out and about, at lan parties or when I am just grinding out some Diablo 3 paragon levels. I really like the white Tyrael t shirt as Tyraels wings and the white really create an angelic feel to it. My favourite though is the Fresh Meat one as it is dirty, gory and everything you would want from a D3 tee. Let us know which is your favourite design below in the comments section.
Click the images below to check out the t shirt in full
These Diablo 3 t shirts are from Jinx, Jinx offer an awesome array of t shirts and accessories. Their most popular product currently is the Diablo III Mistress of Pain socks, I guess people just love them because they are sexy and evil at the same time. Most of these t shirts will come in sizes from small to 2XL, a few of them are also available in 3XL and 4XL.
These are the latest designs from Jinx and they can go very fast.
Click here to get involved and get hold of your own Diablo 3 tee now!
Diablo 3 Prime Evil Hooded Thermal Tee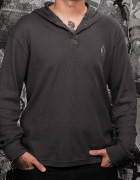 This hoodie is subtle in it's design, but works really well as a D3 hoodie. The symbol on the right side is great. Turn it over and the true Diablo emerges, a large black Diablo-esque graphic across the whole back of the hoodie. Take a look at the image and see what you think.
One thing to note with this hoodie is that it does not have a zip, it is a pull over hoodie.
Diablo 3 Reaper of Souls T Shirt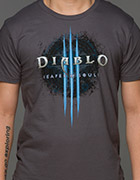 This t shirt embodies the Diablo 3 Reaper of Souls completely. It has the blue logo, a nice grey background. On the back is the phrase "No one can stop death" a great slogan for Diablo 3. This t shirt is included here because it is exactly reaper of souls as you would want it, enjoy!
This t shirt is a new release for the Reaper of Souls expansion.
Diablo 3 Tyrael T Shirt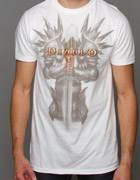 This t shirt is one of my favourite D3 tees. I love the character Tyrael he is an absolute boss and is awesome in the end of the Diablo 3. The reason this t-shirt is so cool is because of the angelic white background, the slightly light silver/grey in the main graphic and then the strong fiery diablo logo in the foreground. Check out the image and you will see what I mean by the imagery.
By the way Tyrael was a bit of a noob at one point in D3, but that's no reason not to get this t-shirt.
Cartoon Diablo T Shirt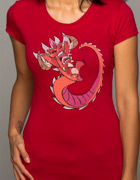 This t shirt is wicked, the cartoon diablo spirals out of the center of the t shirt and comes leaping towards who ever is opposite. This is one of my favourite Diablo 3 t shirts, it doesn't directly copy the style of D3 but retains it's evil feel. It's also kinda cute.
Think you could design a better t shirt than this one? Leave your image in the comments section below.
Grab your D3 t-shirt over on Jinx.!
Please note TeamOverpowered does recieve a commission if you purchase anything from Jinx, the commission is used to continue posting great guides and articles for the community.